Navigation:
<![if gte IE 7]>

<![endif]>
<![if gte IE 7]>

<![endif]>
<![if gte IE 7]>

<![endif]>

<![endif]> <![if gte IE 7]>

<![endif]>
<![if gte IE 7]>

<![endif]>
Testimonials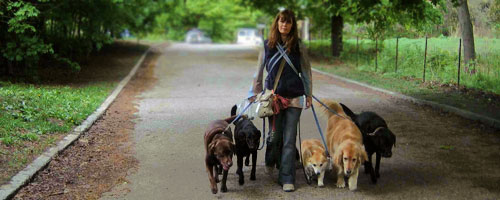 "Jennifer has done an amazing job with our two schnauzers. Since she started walking them, their behaviour is much improved. Even when we walk them they are more obedient and responsive to commands. We have also boarded our dogs with her and we will continue to do so. We have the utmost trust and confidence in her. She has a gift with animals and her caring personality comes through in all she does."
Sandy McIntyre
"Jennifer is a dependable, conscientious dog walker whose knowledge of dog training, and health is shared generously with her clients. She handled our older corgi for several years with great sensitivity, and has been closely involved with the training of our young corgi, who at 3 years old is by far the best behaved dog we have ever owned, thanks in great part to Jennifer's involvement. Jennifer's consistently cheerful, firm attitude with the dogs gives her pack a calm confidence- they are attentive, and they adore her!"
Anna Lamb
"Jennifer is wonderful with our dog - she is timely and reliable in taking care of him and clearly an expert in doing so. Jennifer has provided many recommendations on how to enhance his care and has been a fantastic ally in his care. We depend entirely on Jennifer for walking and boarding and she has never let us down."
Emily Jelich
"Jennifer walked my dog, Sydney, from the time she was old enough to join the group walks, and was a significant asset to me. Not only did she relieve my guilt about leaving my pup alone while I was at work, but she did a great job of instilling basic manners and walking etiquette with Sydney as well. I would highly recommend her services."
Allison Graves
"Jennifer is absolutely amazing. I highly recommend her. She walked Swansea for 5 years. The ONLY reason I switched is that I moved out of her area (to the East end). Swansea is a wheaten terrier and can be anxious and neurotic at times. Jennifer handled him really well. She instilled a sense of calm and confidence in him (and me for that matter). Jennifer is extremely consistent, reliable, professional and dedicated. She trains all her dogs well and does not take any non-sense from any of them. She commands their attention and respect. She also had great advice for us on training and discipline issues as Swansea was growing up. Jennifer was also great in terms of boarding. Swansea stayed with her often and was very comfortable in her house. Jennifer is still my first choice for boarding Swansea even if I have to drive across the city to drop him off. I cannot say enough good things about Jennifer. I am quite certain I will never find any dog walker as good as Jennifer. You would be lucky to have her take care of your dog."
Breese Davies
"We had never left our puppy with anyone before. We felt so comfortable from the very first time we met Jennifer in leaving our Tucker with her. We went south and knew he was in wonderful hands. We would never hesitate in recommending Jennifer to anyone for any dog - big or small. It's like leaving your dog with family - even better!."
Mary Anne Elliot
"We were pleased to see how quickly Gaia bonded with Jennifer. After one or two walks, she became one of Gaia's favourite people. Gaia is beside herself with excitement when she sees Jennifer. That speaks volumes about Jennifer's ability to connect with her canine clients."
Kathy Hipfner-Boucher
"Like a knight in shining armor you swooped in with 2 20foot leads and swept my dogs off their feet. Never mind the wonderful excursions that they get to go on with you daily, the fact that I get a whole nights sleep because our puppy is too tired to play during the middle of the night, makes you a life saviour. I will always appreciate the wonderful service you provide."
Gwen Greene
"She's doggone great! When my owner asked me to give a testimonial for Jennifer, I was temporarily at a loss of words. How to explain instant trust and rapport I felt with her on first meeting? The feel of her hands giving my weary limbs my first ever doggie massage? The lilting sound of her voice making me feel safe and comforted when my owner wasn't around?
"To cut to the chase here. I am a 15 year old arthritic black lab, who has managed to outlive all my canine friends basically because I've been spoilt to death. Thanks to my owner's overindulgence, I have been treated like a child all my life, with nice cozy couches to sleep on, all the people food I want (cheese being my very favorite), and loads of undivided attention. So when my owner was planning to go away on holiday, she was very concerned that I be taken care of in the style I was accustomed. Jennifer more than met the requirements of our stringent lab tests. I got nice massages every day. Short walks that stretched my stiff, arthritic joints without straining them. And lots of TLC. One thing that my owner was also happy about was that Jennifer also managed to curb one of my more annoying habits of begging at the dinner table with a firm, yet friendly, "No." So now I have better table manners (and have disproved the axiom that you can't teach an old dog new tricks.) All in all, my stay with Jennifer was so wonderful, it was like being on a holiday myself. I just love Jennifer. In fact, if I had to choose between staying with Jennifer and a nice, big chunk of aged cheddar cheese, I'd have to say .... Mmmm...
" Let's just say Jennifer would come in a very close second."
Gordie, the geezer lab. (aka Diane Bracuk)
"Jennifer has looked after our dog for over 7 years. She has helped us deal with everything from teenage over-exuberance to geriatric arthritis and everything in between. She is very reliable, knowledgeable and we especially like that she can board our dog when we go away. He looks forward to boarding like he is going away to camp which makes leaving him much much easier. I would highly recommend Jennifer's very professional service."
David Smith
"I would recommend Jennifer for anyone with a pet who is looking for someone reliable to care for them. I have known Jennifer for quite a few years and she is kind, fair and reliable. And she's very good at training dogs."
"Jennifer is passionate about what she does. She enjoys running her own business and provides top notch service, care and training to her dogs. I have referred, and will continue to refer, her to anyone looking for a true professional."
Debra Levy
"Jennifer walked my dog for years. When she left to start her own firm we followed her because she earned all of the love the dog gave her. I don't have a dog anymore but still use Jennifer for cat sitting. I have no hesitation giving Jennifer the keys to my house or entrusting her with my pets. She has always done a wonderful job, and is wonderful for vacation coverage. Jennifer, you are a life safer."
Graham Williamson
"When we first moved to Toronto almost a year ago finding someone we could trust with our dog was the highest priority. Lucky for us we were referred to Jennifer by a friend, and are so thankful to have met Jennifer! Jennifer has shown tremendous patience and commitment to our dog Cooper. She has stuck with him through ups and downs (he is a tad bit stubborn!), and has even taken the time to teach him manners and properly train him both in the car, and when hiking in a pack. We have also used Jennifer for one-on-one training sessions and learned, not just about our dog's behaviour, but about ourselves as dog owners.I have noticed such a difference in Cooper in just under a year, I can't imagine trusting my dog with anyone else! I am more than happy to endorse Wholedog for your pet's services - thank you Jennifer, you truly have been a life saver to us, and to Cooper!"
Sylvia
Testimonials:
<![if gte IE 7]>

<![endif]>

<![endif]> <![if gte IE 7]>

<![endif]>
<![if gte IE 7]>

<![endif]>