Navigation:
<![if gte IE 7]>

<![endif]>
Vacation & Daycare

<![if gte IE 8]> <![endif]>
<![if gte IE 7]>

<![endif]>
<![if gte IE 7]>

<![endif]>

<![endif]> <![if gte IE 7]>

<![endif]>
<![if gte IE 7]>

<![endif]>
Vacation & Daycare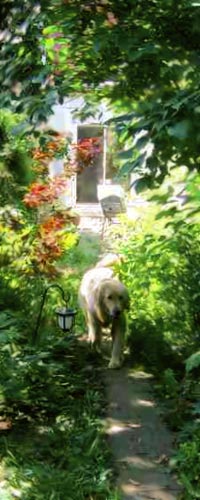 Please note: These services are only offered to walking clients.
While your dog home-cares with us, he or she will have plenty of backyard play and an hour walk each day.
Please bring the following for their stay:
Enough food for the duration. Any change in the food regimen can upset a dog's digestive system.
Any medications we might need.
Your information, your vet's information and emergency instructions if special care is needed.
Your dog's collar and valid tags.
Please leave these at home:
Your dog's leash
Bowl
Toys
Bed
Our home-care environment includes a dog, a cat and a teenager. As with any family, we have rules and be assured, after the first day your dog will know what they are and abide by them. We are consistent with our expectations. Like children on a playdate, they adapt and are generally better behaved than at home!
Dogs learn by being introduced to new experience and stimuli. You may notice a difference in cognizance coming home even after just a couple of days.
We do not have more than 2 dogs home-caring at a time.
Daycare is approximately 10am to 5pm including walk (times are flexible). If your pet's stay lengthens into another half day, there will be an an additional daycare charge.
Please note: As this is a busy household, pick up and drop off times are scheduled. If they must be re-scheduled, please do so by phone with 24 hours notice. Thank you.
Have a great vacation and know that your pet is well cared for in a healthy environment and having lots of fun!
Testimonials:
<![if gte IE 7]>

<![endif]>

<![endif]> <![if gte IE 7]>

<![endif]>
<![if gte IE 7]>

<![endif]>