Navigation:
<![if gte IE 7]>

<![endif]>
Dog Walking

<![if gte IE 8]> <![endif]>
<![if gte IE 7]>

<![endif]>
<![if gte IE 7]>

<![endif]>

<![endif]> <![if gte IE 7]>

<![endif]>
<![if gte IE 7]>

<![endif]>
Dog Walking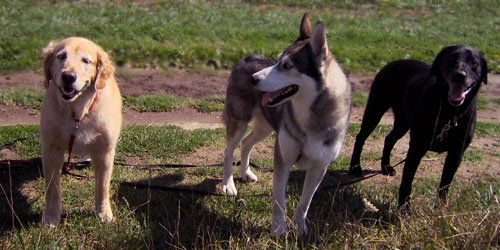 Wholedog positions for group walks are 4 days/week minimum. This allows all the dogs to bond as a "family" with their pack. We have found that dogs who walk together consistently learn protocol and their next steps more easily and in a balanced fashion.
When your dog hikes with us, he or she will be with a group of no more than six dogs in on-lead and off-lead areas of local parks, for a full hour. Fifteen minutes of the walk is dedicated to reinforcing training through working play if your pup requires training. We also give out plenty of treats!
Please note, we do not walk on statutory holidays.
If your puppy is too young for our walk, we will start with half hour private puppy visits.
You will be asked to provide:
A full bowl of fresh water for after their walk
A towel at the door for easy clean up
A snug collar with a valid City of Toronto license
Your dog will need to be spayed or neutered over the age of 6 months, have updated vaccinations, be tested for parasites and be healthy enough to handle a robust hike. Your dog must also respond to sit, stay and recall commands; otherwise he or she may be required to stay on lead during the walk. We screen pets for aggressiveness during our introductory meeting at your house. If Wholedog is a good fit, you will be asked to sign a Dogwalking Agreement and you will need to provide Wholedog with a key to pick up and drop off your pet.
We will work out a schedule that best meets your family's needs. Five days notice is required to suspend walking services for more than a day or to change your walk schedule. If you fail to give appropriate notice, there is a risk that your dog's spot may be filled. If your Wholedog walker is ill, another walker may substitute. We will endeavour to give you 24 hours notice to provide alternate arrangements for your pet if you prefer. When your Wholedog walker is on vacation, we will help you make other arrangements with two weeks notice. Wholedog will provide referral options.
Though we do our best to clean up your pet after their walk, we cannot bathe your pet. If he/she is extremely muddy, we can section them off in a designated area of your home at your request.
We will provide email updates of your dog's behaviour on the walks including pictures of the fun we all have together!
Testimonials:
<![if gte IE 7]>

<![endif]>

<![endif]> <![if gte IE 7]>

<![endif]>
<![if gte IE 7]>

<![endif]>